GameZnFlix DVD Rental - GameznFlix.com Rentals Online
MAJOR UPDATE: Gameznflix ceased their video game and DVD rental service in late 2008. Netflix is our recommendation for DVD rentals and GameFly is our recommendation for game rentals. They are both thriving business that are not likely to cease operations any time soon like GameZnFlix did. Having 2 separate services may entail some extra expense, but you get more titles out at a time. For example if you are on the 3 DVD at a time plan at Netflix and the 2 game plan at GameFly, you can have a total of 5 different titles out at once, giving you a lot of entertainment options.
---
---
Online DVD rental services like GameznFlix are the latest craze...and why not? Renting DVDs online is extremely easy, cost effective, and super convenient.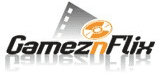 GameZnFlix DVD Rental Service
Most rental services only have DVD movies or video games, but at GameZnFlix you can rent both video games and movies from the same online rental service.
Using GameznFlix is really easy. Basically, you just pick out the games and dvd movies you want and they send them to you. Keep them as long as you want, since there are no due dates or late fees with Gamez n Flix. When you are done, return them to GameznFlix using the pre-paid mailers.
For only $8.99 per month, you can rent all the movies and games you want at GameznFlix.com. (This allows for 1 movie or game out at a time. Other plans are available, including a Super Value plan that allows you to have up to 6 DVDs/games at once for a really reasonable price.)
Since GameznFlix.com has over 50,000 titles available, you can find virtually any movie you want. They have everything from classic movies to the hottest new releases. They even have BluRay and HD-DVD movies available for those with high def players. Plus they also have video games, including XBox, XBox 360, PlayStation, PlayStation 2, Sony PSP and Nintendo Game Cube videogames. For PSP owners, they have both games and UMD movies available.
They offer a 2 week free trial, so you can try GameznFlix free of charge. With this GameZnFlix Video Game Rental Free Trial there is no reason not to try them out today.
For more information, all the details or to join the Gamez n Flix service, click to go to GameznFlix.com.
Read GameZnFlix Reviews – Submit a GameZnFlix Review, Rating or Comment.
---
Other places for online dvd rentals include NetFlix, Blockbuster Video and Walmart DVD Rentals. Other places for online video game rentals include GameFly.com, GPlay, Gamerang and DVDAvenue.com.
Perhaps for some reason DVD rentals are not for you. Or maybe you rent dvds online already, but there are some you want to own. For these reasons we also have information on our site about DVD Movie Clubs such as Colombia House and Disney Movie Club as well as other information on where you can Buy DVD Movies Online.
Thank you for visiting AllDVDRentals.com for information on GameznFlix. We are not part of Gameznflix.com. Please add our site to your favorites and tell your friends about us.